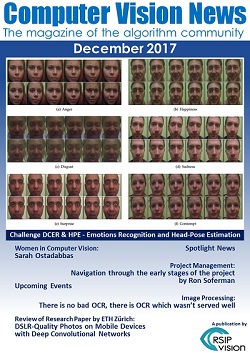 Get Effective Computer Vision Consulting and R&D
RSIP Vision provides Computer Vision and Image Processing consulting and algorithms for the broadest range of activity sectors: from precision agriculture to medical applications (cardiology, pulmonology, ophthalmology and others); from microscopy image analysis to OCR, semiconductors, classification and all kind of machine learning projects. Our engineers are experts in artificial intelligence, deep learning and all the most advanced computer vision techniques.
We also publish Computer Vision News, the online magazine of the algorithm community.
"RSIP Vision team was tasked with improving the accuracy and precision of our surgical guidance application. They showed and proved outmost expertise, professionalism and project management skills. They were very tuned to our requirements and requests.We were very happy with the quality of the work they produced."
~ Latifa McQuiggan - Senior Marketing ManagerGeorge Polchin - Director of Advanced Development
"I would like to thank you again for the amazing work you did with the three MICCAI newsletters. I got positive remarks about it from many attendees."
~ Prof. Leo Joskowicz - Head, Computer-Assisted Surgery and Medical Image Processing Laboratory at The Hebrew University of Jerusalem
"I enjoy working with Ron Soferman and his team at RSIP Vision because it's easy to work with them: they provide clear and timely information and they deliver technology exactly as promised."
~ Dr. Ron Maron / BIRD Foundation
"I am very glad that I chose Ron and RSIP Vision. The two projects they developed for us became the flagship products of the company and received enthusiastic feedback from our customers."
~ Noam Allon / Medivision
"Ron and his team quickly understood the task and started providing better and better results. I fully recommend working with Ron and RSIP Vision."
~ Ofer Saphier / Orbotech
News
Career Day 2017 at the Hebrew University
11/12/2017 / No Comments
Another career day was organized on November 30 by the Hebrew University...
Read More
Meet us at Upcoming Events