Both the United States and the European Union have issued rulings mandating that
by year 2020 all vehicles must be equipped with autonomous emergency-braking systems and forward-collision warning systems
. These life-saving decisions alone would be enough to make ADAS (Advanced Driver-Assistance Systems) the main focus of attention for many, especially manufacturers, OEM vendors and their suppliers. In addition, more and more car buyers are becoming sensitive to
ADAS applications and features
which would enhance economy and comfort, like parking assistance or blind spots monitoring. Last but not least, fully autonomous vehicles will be marketed not so many years from now and the huge business potential of this opportunity is very clear not only to car manufacturers, but also to high-tech companies like
Google
and other, who are spending huge sum on research and development to develop marketable solutions in the self-driving cars marketplace.
A
recent McKinsey report
says that though current revenues for ADAS vendors are still moderate, most industry experts expect to see an
annual increase of more than 10 percent from 2015 to 2020
. Growth rates of this levels would be among the highest that the automotive sector and related industries had ever known.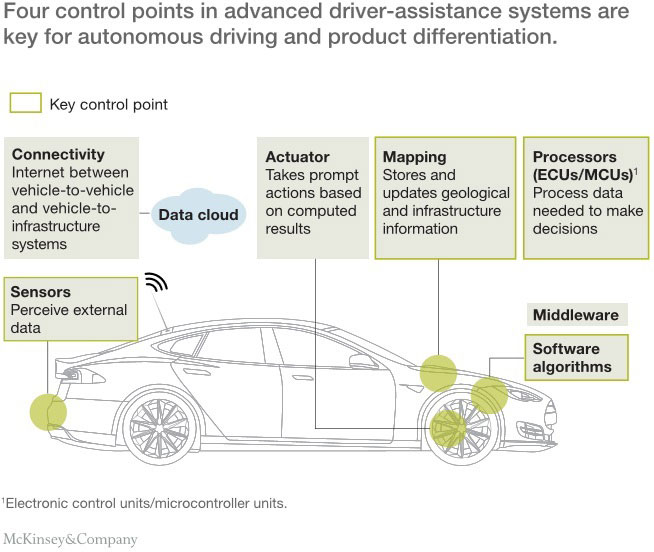 ADAS integrates many technologies, as shown in the image above; the main ones regard processors, sensors, mapping and software algorithms. Naturally, it is
software algorithms
which involve image processing and as a consequence need work by
RSIP Vision
. We have done that in several projects, most of which are listed in our
ADAS section
. Our algorithms use input coming from sensors to synthesize in real time selected information from the surrounding road environment. These algorithms are developed for two main purposes: i) to provide output to driver, in the form of alert or other information; ii) to specify the way system should react to control the vehicle (brake, steer or other safety-related navigation commands).
These algorithms are not a trivial development. In the words of the report:
"they could require some of the most complex in-car-software integration ever created, since any decisions that the algorithms specify, such as the application of emergency brakes, are critical to ensuring safety."
Some of these algorithms are developed to accurately predict all possible human behavior, which is by definition quite unpredictable and potentially irrational. This is key to allow safer car navigation when, for instance, a crash between two vehicles or with a pedestrian appears imminent to the ADAS application.
ADAS Future Opportunities
According to the report, many business opportunities lie ahead for ADAS suppliers, in particular for hardware and semiconductor: automated emergency braking, adaptive cruise control, forward-collision warning and, most of all, parking assistance systems.
On the other hand, the report shows there is another side to the coin: safety requirements will let the system take more active control of cars, leading to rate some elements (electronic systems, subsystems, or components) at Automotive Safety Integrity Level D. In fact, ASIL classification involves three variables of failure (severity, probability of exposure, and controllability) and level D is reserved for components or systems where a malfunction poses the risk of injury or death. Also the risks of ADAS hacking should not be undervalued: the consequences of a hacker's interference with steering, braking, or other vehicle functions could be catastrophic. Hackers do it already on non-ADAS vehicle systems, such as applications that locate, unlock and start cars.
RSIP Vision will keep developing great software in the ADAS arena, leading to equip our cars with always better safety applications, which protect drivers and reduce accidents. Do you have projects in the ADAS arena? We will be happy to discuss them with you.