Image Analysis Services by RSIP Vision
RSIP Vision has a dedicated team of AI engineers guided by our medical experts. We offer outsourcing services in all areas of image analysis to pharmaceutical, biotech, contract research organizations, medical centers and research institutions. We provide a full end to end solutions guided by our medical staff for all of your image analysis needs. Our solutions are used to accelerate workflow, increase efficiency and generate new insights into your data.
Solution Development and Slide Processing Services
We have internal capabilities to build any type of automated or semi-automated solution for all areas of medical imaging. Our team of AI scientist works closely with our pathology network to ensure all solution development is guided by proper medical and scientific merits. Once these solutions are validated, they can be utilized for routine analysis and processing of slides. All results undergo extensive QC and are delivered in as part of a comprehensive report at conclusion of project.
CDx Solution Development
Working closely with our partners to fully understand their needs, solutions build for CDx development follow our strict design and control process. They are fully tailored to the specific drug or companion diagnostic development requirements. Once solution is finalized, it undergoes extensive validation and testing to ensure maximum performance on any environment. Solutions can be built on all modalities and tissue types leveraging our expertise in computer vision and use of deep learning algorithms. We have several tools currently deployed as part of a clinical practice, surgical procedure and medical device.
Exploratory Screening Assay
Designed to provide a quick and fast response on a preliminary dataset. Allows for comparison of data across multiple biomarkers and disease indications which facilitates selection of key assays to move forward into clinical development or companion diagnostics. It provides a preliminary assessment that can be used for biomarker expression profiles.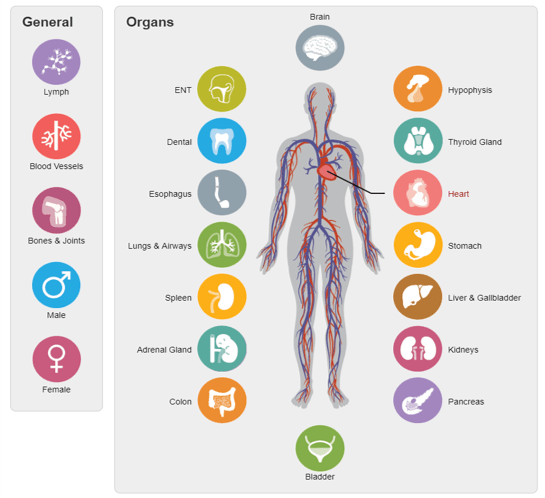 Radiology Based Image Services
RSIP Vision has developed modules for the segmentation of most organs in the human body.  These have been developed and validated under strict guidance and supervision of a board certified radiologist. These modules can be used as part of our image processing services where you can via a portal upload your images and select the desired analysis tool.  All results undergo extensive QC and deliverables range from report generation to 3D mesh files, depending on your needs.