Bay Vision Meetups with RSIP Vision
RSIP Vision
has a long tradition of communication and education in the fields of computer vision and artificial intelligence. The most obvious example is
our acclaimed magazine Computer Vision News
, which has already donated to our community thousands of pages of free and exclusive scientific knowledge. But this is far from being our only initiative. RSIP Vision has created in the
San Francisco Bay Area
a
Meetup group dedicated to Artificial Intelligence for Medical Imaging
. The group, rich of over one thousand members, reunites regularly in Cupertino, CA around top speakers from both the industry and the academia.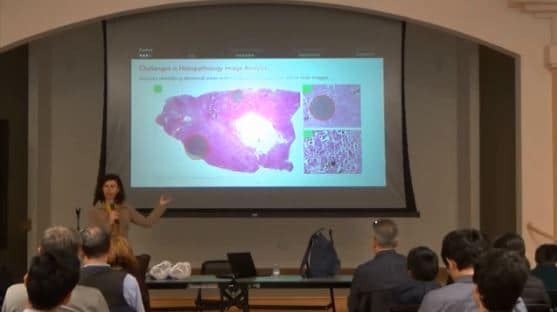 These Bay Vision Meetups on AI for medical imaging are fully sponsored by RSIP Vision. If you are in the Silicon Valley and have a chance to join, you will enjoy great networking and delicious pizza. If you missed any of our previous Meetups or if you are based too far from the Bay Area, you will find below all the videos from all the Meetups. However, the sound and the audience experience is always much better on live, so be with us next time!
Latest Meetup was on December 5. Registration is closed
.
Videos of Previous Meetups
.
December 5, 2019 – Invited speakers:
Mehdi Moradi, IBM Research, Almaden Research Lab
Deep learning for medical image analysis: many challenges, some solutions
Moshe Safran, CEO at RSIP Vision USA
Best Practices in Applied Deep Learning for Digital Pathology Multiplex Image Analysis