Bay Vision Meetups with RSIP Vision
RSIP Vision
has a long tradition of communication and education in the fields of computer vision and artificial intelligence. The most obvious example is
our acclaimed magazine Computer Vision News
, which has already donated to our community thousands of pages of free and exclusive scientific knowledge. But this is far from being our only initiative. RSIP Vision has created in the
San Francisco Bay Area
a
Meetup group dedicated to Artificial Intelligence for Medical Imaging
. The group, rich of over one thousand members, reunites regularly in Cupertino, CA around top speakers from both the industry and the academia.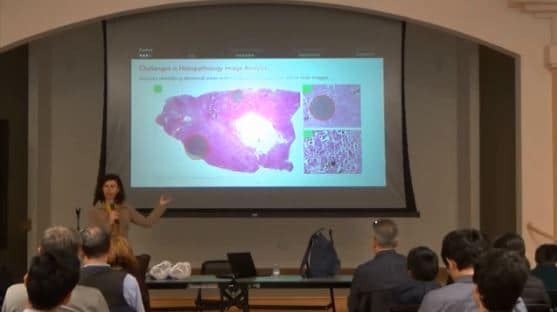 These Bay Vision Meetups on AI for medical imaging are fully sponsored by RSIP Vision. If you are in the Silicon Valley and have a chance to join, you will enjoy great networking and delicious pizza. If you missed any of our previous Meetups or if you are based too far from the Bay Area, you will find below all the videos from all the Meetups. However, the sound and the audience experience is always much better on live, so be with us next time!
Due to the pandemic situation, the Bay Vision Meetup goes online and is open to all!
Upcoming online Meetups:
Check us again in March 2021
Videos of Previous Meetups:
.
February 18, 2021 – Machine learning in medical imaging: from image acquisition to interpretation
Host: Moshe Safran (RSIP Vision)
Invited speaker: Julia Schnabel, Chair in Computational Imaging, and Head of Research & Impact,
School of Biomedical Engineering & Imaging Sciences, King's College London

.
December 15, 2020 – AI-Assisted Surgery: Perspectives and Challenges
Host: Moshe Safran (RSIP Vision)
Invited speaker: Stefanie Speidel, Translational Surgical Oncology at the National Center for Tumor Diseases in Dresden

.
September 18, 2020 – Digital Orthopaedics: The rise of specialty focus in digital health
Host: Moshe Safran (RSIP Vision)
Invited speaker: Stefano Bini, Professor of Clinical Orthopaedics, University of California San Francisco (UCSF)

.
July 7, 2020 – Towards Understanding Surgical Scenes Using Computer Vision
Host: Moshe Safran (RSIP Vision)
Invited speaker: Dan Stoyanov, Professor of Robot Vision, WEISS Centre, UCL Computer Science | Chief Scientist @Touch Surgery

.
June 3, 2020 – Invited speaker:
David Matheson, SmartOrg
Post-Pandemic Portfolio: Managing innovation to drive growth in our new reality
Host: Moshe Safran – RSIP Vision

.
April 7, 2020 – Invited speaker:
Jagadish Venkataraman, Calico Life Sciences
Applications of Computer Vision from Endoscopy to Microscopy
Host: Moshe Safran – RSIP Vision

.
February 5, 2020 – Invited speakers:
Sergio Sanabria, Stanford University
Next Generation Cancer Diagnosis – Empowering Ultrasound as a Ubiquitous High-Precision Diagnostics Tool
Qingyu Zhao, Stanford University
Confounder-aware Deep Learning in Neuroimaging Studies

.
.
December 5, 2019 – Invited speakers:
Mehdi Moradi, IBM Research, Almaden Research Lab
Deep learning for medical image analysis: many challenges, some solutions
Moshe Safran, CEO at RSIP Vision USA
Best Practices in Applied Deep Learning for Digital Pathology Multiplex Image Analysis

.
.
October 2, 2019 – Invited speakers:
Ehsan Adeli, Researcher at Stanford University
Confounders in Medical Studies and Deep Learning
Tullie Murrell, Applied Research Scientist at FAIR (Facebook AI Research)
Robust, accelerated MRI acquisition using AI

.
.
July 31 2019 – Cupertino, CA. Invited speakers:
Professor Daniel L. Rubin, MD – the Department of Biomedical Data Science at Stanford University
AI Approaches to Medical Imaging
Professor Irina M. Conboy, PhD – the College of Engineering at UC Berkeley
Preventing, attenuating and reversing age-imposed diseases, as a class.

.
.
June 6, 2019 – Cupertino, CA. Invited speakers:
John Axerio-Cilies – CTO and Founder, Arterys – Tearing down the Walls to bring ML to Healthcare
Ron Soferman – CEO, RSIP Vision – Challenges in Project Management for Medical AI

.
.
April 4, 2019 – Cupertino, CA. Invited speakers:
Dr. Aïcha BenTaieb, Research scientist at Roche
Dr. Michiel Schaap, Director of imaging science at HeartFlow
Dr. Mayank Kumar, Head of research at Gauss Surgical (not in the video)

.
.